Grace Bay Beach, on the northwest coast of Providenciales in the Turks and Caicos Islands, is dotted with more than 30 resorts, villas, private residences, trendy thatched-roof bars, stretches of beach grass, driftwood and footprints in the sand.
Ocean Club West, a 15-minute walk down the beach from sister property Ocean Club, sits on a stretch of beach between Tuscany and Venetian to the east and Gansevoort to the west.
Several years ago I stayed at the 86-unit Ocean Club, which opened in 1990 and completed all buildings in 2000, and recently spent several hot, sunny days and nights full moon at the 68-unit Ocean Club West, which opened in 2000.
Both are beachfront properties with multiple suite categories ranging from studios to cavernous three-bedroom units with views of the beach, pool, or gardens.
My large condominium-style one-bedroom suite had all the comforts of home, with a full kitchen, washer/dryer, living room, dining area, and two bathrooms.
Screened porches at Ocean Club West. Photo credit: Gay Nagle Myers
The big plus for me was the screened porch with two lounge chairs, something I wish more resorts offered. Mosquito nets keep bugs out, let in the breeze and sounds of the ocean at night.
Another big plus was the loaded bike rack near the station entrance. I grabbed a bright green bike one morning and pedaled the road a bit to explore the neighborhood and take in the sights.
The resort is closer to the shops and restaurants of Providenciales than its sister resort, which has the advantage of the adjacent Provo Golf Club.
"We offer luxury accommodation, but we are not a luxury property per se," said Ian McLeod, manager of Ocean Club West. "I would say we are an affordable mid-range resort for families on a beautiful beach with all the amenities and facilities our guests want."
Ahoy, mating! Birds, bees and worms on a yacht trip
On a somewhat cloudy evening at 5:30 p.m. on the third day after the full moon, I boarded a 70-foot yacht named Atabeyra (the Taino goddess of fertility) at a marina not far from Grace Bay Beach. The name of the yacht was certainly appropriate for what I was about to see. Read more
There were more facilities and activities than I had time to try during my short stay, including spa treatments, tennis, sailing, snorkeling, parasailing, paddleboarding and kayaking, but I found time to sunbathe under one of the resort signatures. pink umbrellas.
The resorts have a Stay at One, Play at Two promotion, so at Ocean Club West I had Caribbean eggs, bacon and fruit for breakfast at Solana, sampled a few punches at rum and conch salad for lunch at Cabana Bar & Grille and had dinner one night at Opus at the Ocean Club.
There's no room service at either resort, but guests can stock their kitchens at nearby markets and stores.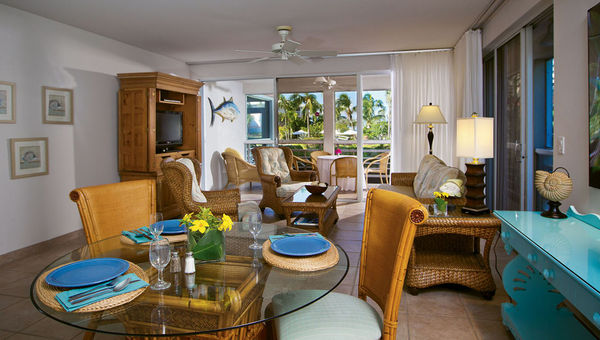 The interior of a one bedroom unit at the Ocean Club West.
Both resorts suffered some minor damage from last September's hurricanes, mostly to landscaping, but the grounds are green again, flowers are blooming and newly planted palms are swaying.
"The United States and Canada are our main markets, and we have many regular guests who come with families and we also have support from travel agents," McLeod said.
"We are looking at a pretty strong winter season, but we need to keep spreading the message that the Turks and Caicos Islands are fully open for business this winter and please come and visit us," he said.
Rates at Ocean Club West start at $399 per room, per night for a studio and $539 for a one-bedroom unit.
Ocean Club rates are $369 for a studio and $519 for a one-bedroom unit.
A winter special for stays through February 16 offers a 20% discount on all rates, 12.5% ​​commissionable.